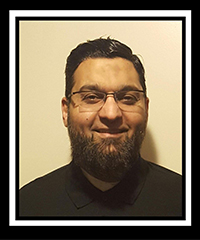 Fahim Mojawalla
AMBC Board Chair and Director of Social Media | #FahimFix
The phrase, "How may I serve you today?" booms and beams from exuberant, outspoken Fahim day in and day out. He lives to inspire, motivate, uplift, and rejuvenate; to make the mundane extraordinary by providing a remarkable experience at the "Spa of Shipping," known as the Island Ship Center in Grand Island, New York, which he co-owns and operates with his wife, Seema, and their five children.
Fahim's heart of service and community mindset are punctuated by his unparalleled personality that lights up a room and engages every single individual to be their best self. Whether he's teaching a #FahimFix social media seminar at a national AMBC event, speaking at a local school, or working with a client one-on-one, he consistently leaves his audience energized and inspired.
Fahim was born in Mumbai, India, and moved with his family to New York City when he was three years old. He went to school in Long Island and graduated from the State University of New York at Stony Brook in 2002 with an honors degree in Economics and a minor in Business Management. In 2005, he moved with his family of seven and mother to Grand Island where they've become pillars in its close-knit community.
As the effervescent co-owner of Island Ship Center, a successful, popular, experienced-based retail shipping outlet, business center, and unique gift store located ten minutes south of Niagara Falls, Fahim and Seema are very involved in AMBC. Fahim is honored to volunteer on the AMBC Board of Directors as Social Media Director. He is also the Vice President of the Grand Island Chamber of Commerce, helping connect other local businesses with social media trends.
Fahim loves being able to live and work on Grand Island, and loves that he's able to spend a lot of time with his kids during after-school activities. He shares a lot of motivational quotes through his Facebook, Twitter, and Instagram pages and uses plenty of hashtags to keep track of online activity, specifically #KindnessIsContagious and #ExudeExcellence.
In 2015, Fahim was recognized for his involvement with the community by being awarded the Excellence in Education award. But we at AMBC feel that he should also have received the Excellence in Being Excellent award, because he indeed is an inspiration to us all.
Contact Fahim today at fahim@ambc4me.org.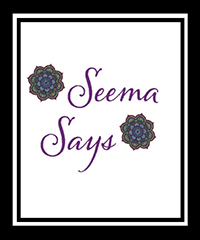 Seema Mojawalla
AMBC Board Member and Director of Innovation | #QueenOfRetail
When the AMBC Board of Directors needs a new idea, an out-of-the-box revelation, or a reality check, we turn to our Director of Innovation, Seema Mojawalla. She has a unique viewpoint that is always fresh, forward-thinking, and focused. Her passionate dedication to our industry, association, members, and friends is pure, and she uplifts us all with her tenacious kindness and gentle spirit.
Seema has an eye for merchandising and a passion for finding the perfect products to sell at the Spa of Shipping, Island Ship Center, an experienced-based retail shipping spa located 10 miles south of Niagara Falls in Grand Island, New York, which she co-owns with her husband Fahim. Her retail prowess prompted her fellow board member, Jeff, to dub her #QueenOfRetail, which we all thought sounded more appropriate than #AnchorToFahimsBalloonString.
The oldest of five girls, Seema was born and raised in Mercer County, Pennsylvania; her father, M.M. Ali, immigrated from India and worked for the University of Pittsburgh Medical Center for 30 years before he retired in 2010. Seema completed her education abroad in foreign language. She and Fahim met on a blind date arranged by her cousin in 1996; shortly thereafter, they got married and had five children.
Seema worked full time as a stay-at-home-parent until fully coming on board with Fahim at Island Ship Center in 2013. Every year since, Seema has been credited with increasing sales in the store through her merchandising and sourcing skills. And if co-owning a popular, growing, busy retail shipping spa, raising five exceptional children, and volunteering on the AMBC Board of Directors wasn't enough, Seema is also the owner of The Henna Salon and the founder of Island Bliss, an exclusive line of natural, handmade body care products.
With energy, talent, and an ability to stay calm in the midst of seeming chaos (or during one of Fahim's histrionic conference speeches), Seema's unique visionary approach to in-store design, product placement, and bold new profit centers allows her to sparkle and shine as AMBC's beloved Director of Innovation.
Contact Seema today at seema@ambc4me.org.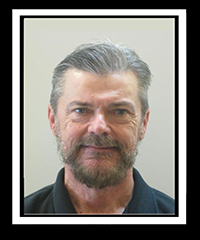 Norman Froscher
AMBC Board Vice Chair and Director of Engagement | #NormanKnows
If you've happened upon any of Espresso Mail's social media lately, you've surely seen a video of Norman engaging his customers in conversation … or engaging his community to become aware of a charitable cause of the month. Norman cares. And it shows on where he focuses his time and energy, and in where he directs his audience's attention.
Norman and his wife Lisa co-own Espresso Mail in West Palm Beach, Florida. Perhaps one of the most unique models in our unique industry, their business marries the business and shipping center concept with a coffee bar, and the result is something incredibly special!
As a former USPS letter carrier, Norman knows the ins and outs of getting packages and mail handled correctly. He previously managed business services for several law firms and financial companies, so he's well versed in "taking care of business." He's a veteran, having served in the 82nd Airborne Division. And, while he loves a good cup of coffee, his go-to drink is a straight shot of espresso.
Norman's outreach, lively spirit of community, and years of experience in our industry make him a perfect fit as AMBC's Director of Engagement. We are thrilled to have him on the team!
Contact Norman today at norman@ambc4me.org.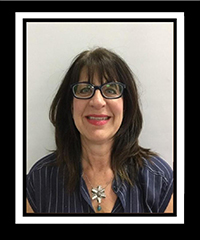 MaryAnne Scarponi
AMBC Board Member and Director of Special Projects | #MACares
Coming from the real estate business, customer service has always been a priority for MaryAnne. For her, it's not enough just to let a client leave her store happy. She wants them to leave her store knowing that they were seen, heard, and treated with the upmost care … because caring is what MaryAnne does best!
MaryAnne, her son Tony, and their dog Major have been running Coastal Postal in San Clemente, California, since 2011. They adore their close-knit community and all (especially Major) love the beach that's just down the street. Their business is much more than just a shipping counter, but rather a community hub where neighbors become friends, problems are solved, and charitable causes are always supported.
Since coming into this industry, MaryAnne has learned the value of mentors. She feels that she would have never made it alone and accredits AMBC and its seasoned members for helping her succeed in this business. Our "Members Helping Members" slogan is very real to her, and she's made it her mission to return that support and give back as much as she's able.
As MaryAnne says, "AMBC is my business family and I'm proud to be a member." Well, we return that sentiment right back to her. She's been an active, caring, delightful member for years and we are so grateful that she is now volunteering on the AMBC board of directors as Director of Special Projects.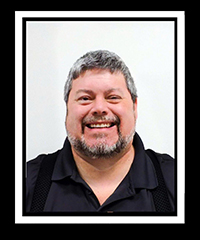 Steve Dick
AMBC Board Treasurer and Director of Print for Profit | #BoxKingSteve
Efficiency is defined as having "competency in performance," or being "able to accomplish something with the least waste of time and effort." This is Steve's core philosophy, his signature, and his key to success.
Steve's dad lived life as if there was always a deadline, teaching Steve that time is our most valuable commodity. And Steve, by nature, is not a very patient person. In fact, he'll be the first to tell you that he's actually super impatient! But he's discovered that he must at least show some patience, even if he's not feeling it—a lesson we all need from time to time. His dad's example, combined with a profound attention to detail he developed from his background as a sound engineer, has led Steve to always try to find the most efficient ways of doing whatever he's tasked with.
At Box King, the business Steve and his mom co-own in Springfield, Ohio, efficiency is the key to success. The people he hires, the equipment he purchases, and the services he provides are all geared toward his outlook of how to get his customers in and done so they can move on with their days. His satisfaction comes from the look of relief on his clients' faces when he tells them, "That's it. Box King will take it from there."
Printing is a profit center that Steve has groomed and developed into something truly outstanding at Box King. His knowledge of the space and willingness to share with other AMBC members is exceptional; he's always lending a helping hand to other members on the AMBC online user forum, AMBC4ME. We're very grateful Steve now volunteers on the AMBC board of directors as Director of Print for Profit. Not only does he bring countless fresh ideas to the table, but he also brings a spirit of helpfulness and reason that lifts our whole AMBC family to a new level of excellence.
Contact Steve today at steve@ambc4me.org.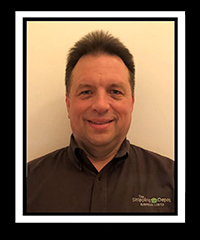 Barry Risch
AMBC Board Secretary and Director of Mentorship | #MentorBarry
Barry is a class act. Anyone who has had the pleasure to interact with him over the years understands right away the characteristics that he unwaveringly projects: gratitude, professionalism, respect, and insight.
Since 2003, Barry has been a member of AMBC and the owner of The Shipping Depot in Allison Park, Pennsylvania. He used all of the AMBC resources available to him in the early years of his career: the magazine, the website, the user forum, and phone calls to the organization when he needed guidance and help. He truly felt like he had a connection with the organization, even though he hadn't yet met much of the team in person.
By 2014, his business grew to the point he had the resources necessary to allow himself and his wife Kathy to attend the AMBC convention in Los Angeles. That was a life changing experience that he needed to give him a boost to continue to succeed into the future. It was then that he discovered what he had been missing over the years by not being able to attend regional and national events. In Los Angeles, he actually got to meet the board members, the vendors, and other members of the organization. In his eyes, that was the true experience of AMBC. He discovered there was an actual network out there that is willing to help more than he could imagine.
Barry is a strong believer in the organization and the industry as a whole. When presented with the opportunity to volunteer as a board member, his first thoughts were how important AMBC has been to his success. His interests are in the membership of AMBC and becoming a mentor to help others discover the true experience of this fine network. We are so glad he's joined the board as Director of Mentorship, and know he'll make a big difference!
Contact Barry today at barry@ambc4me.org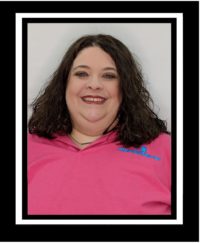 Tobye McClanahan
Director of Technology | #TobyeTips
You don't have to talk to Tobye for long to experience her great passion for small business and entrepreneurship. She comes by it naturally as her daddy opened his first small business when she was only four years old. After high school, she left home to attend Arkansas State University where she received a B.S. in Finance with a Corporate Emphasis and an additional B.S. in Accounting. When her daddy passed away in 2007, she returned to her home town to operate his three businesses until she was able to facilitate their sale.
In September of 2008, she began her own entrepreneurial chapter in the historic downtown district of Blytheville, AR.  That was the birth of Mailboxes & Beyond, which has become to be known much more by the Beyond! In her rural county located in the Arkansas Delta Region, Tobye is widely known for her love of community and supporting local businesses and organizations. She has served on several boards and committees and is a recognized leader wherever she goes.
If you ask Tobye she will tell you that she is an entrepreneur, not a shopkeeper.  Not that there's anything wrong with being a shopkeeper if that's your goal, but it wasn't her vision. She knew that one of the many secrets to successfully growing her enterprise was to get OUT of it! So, in the summer of 2010 she attended her first industry event which was a national convention hosted by the then-AMPC in Chicago. Since that time, she has attended numerous industry events, visited dozens of stores, and made many lifelong friends. "Without plugging into the industry and making industry friends, Mailboxes & Beyond would not have survived the first three years." Last year they celebrated 10 years by unveiling The Custom Shop which is located inside Mailboxes & Beyond and it is their second brand for marketing their custom apparel, promotional products, trophies, sign shop, etc.
Tobye is a social media guru and sharing great ideas is one of her few hobbies, so If you're just starting out or an industry vet who just needs a pick me up feel free to give her a shout.
Kim Galloway
Director of Operations | #AMBCConcierge
If you've called AMBC any time in the last decade, there's a good chance the friendly voice that answered was Kim's. Indeed, she needs no introduction. She's a friend to each member, and a valued resource for all.
Kim is the glue that holds AMBC together. She runs the office, monitors the phones, answers the emails, manages the AMBC user forum, develops programs, organizes and runs national conventions, regional workshops, and other events, and works closely with vendors, members, and the AMBC Board of Directors and staff to make everything flow smoothly. She's truly amazing at what she does, and continually impresses her coworkers with her efficiency, dedicated work ethic, and tremendous knowledge of our intricate industry and association.
Since joining the AMBC team as Director of Operations in 2008, Kim has done it all. She has years of experience at the counter of Mailboxes and Parcel Depot, which AMPC used as a flagship store and new owner training center in Rockford, Illinois. She was integral in directing the organizations as AMPC transitioned to the new non-profit AMBC, and helped steer the offices through the transition to dual offices in California and Illinois, giving AMBC access to both West Coast and Midwest time zones.
Kim is passionate about customer service and looks for innovative ways to help members navigate the multitude of challenges facing owners in this age of constant change. She looks forward to hearing from you!
Contact Kim today at hello@ambc4me.org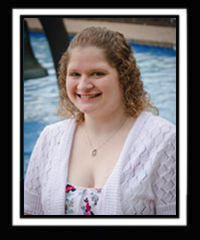 Kimberly Deters
Director of Member and Supplier Relations | #KimCan
If you've been to any industry event in the last dozen years or so, you've surely met Kimberly. She has
been active in the mail and business center industry since 2007 and, with her husband Eliot, co-owns
numerous stores in the St. Louis area. Guests at their stores are always greeted with warm smiles,
making them feel as if they are family being welcomed into their home.
The Deters were some of the first people to become lifetime members of AMBC, acknowledging that
making friends and building a network of resources to go to with questions and comments is essential in
this industry. Kimberly was also one of the first to receive her Master of Retail Shipping Management
degree, knowing that a good store owner is never done learning and finding alternatives to current
procedures.
The Deters are active franchisors for their rapidly growing chain of The Mail Box Stores. When Eliot is on
the road opening new stores, Kimberly remains the first point of contact when the new stores have
question on procedures or what vendor(s) to use. She's a pro at putting store owners in contact with
vendors and ensure vendor and store owners' relations remain open and consistent.
In 2019, Kimberly joined the AMBC team as Director of Member and Supplier Relations—a position she
fits into perfectly. In this role, she keeps in close contact with AMBC Members and AMBC Trusted
Suppliers alike, ensuring everyone is getting the most out of their AMBC memberships and sponsorships.
Her specialty is problem solving, connecting the right people with each other to find solutions, make
lives easier, and grow businesses to become more profitable.
Kimberly loves taking her two daughters and husband to workshops, conventions, and trade shows to
find new ideas and vendors to bring into their stores in southern Illinois. If you see Kimberly at any of
these events, you will likely find Zoey and Catherine right at her feet, learning about the industry, with
the love of work and friendships being instilled in them along the way.
Contact Kim today at kim@ambc4me.org.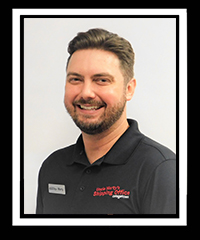 Marty Johnson
Director of Communication & Advisor to the Board | #AskUncleMarty
Uncle Marty is proof that a positive attitude makes a big difference. As an entrepreneur, writer, and business coach, he loves to share what he's learned in business … and in life.
Marty enjoys working alongside his team at Uncle Marty's Shipping Office, a hip, community-focused business center adjacent to Cornell University in beautiful Ithaca, New York. There, as Co-Founder of the Collegetown Small Business Alliance, Marty works closely with his neighbors to find solutions to local challenges and ensure their one-of-a-kind neighborhood remains exceptional.
In addition to being a small business owner, Marty volunteers as Director of Communication and Advisor to the Board for the non-profit Association of Mail & Business Centers (AMBC), having previously served five years on its board of directors, finishing his term in 2018 as Board Chair. He's been honored to be a panelist and speaker at summits and industry events across the country for more than a decade, and both he and his business have been featured multiple times in industry publications like FedEx ShipSource®. He was one of the first recipients of the Master of Retail Shipping Management degree, and his business was one of the first in the country to become an AMBC Certified Gold Store.
After years as a contributing writer for MBC Today, the mail and business center industry's leading publication, he's now the magazine's editor; his business advice column, Ask Uncle Marty™, is a favorite among readers.
Bearing his Uncle title with honor, it's Marty's privilege to serve as a voice, leader, and mentor in his communities and the unique, ever-changing retail shipping industry.
Learn more at askunclemarty.com.